About The Film
A 19th century Armenian woman living in Japan who saved hundreds of refugees from the Ottoman Empire
DIANA APCAR,
THE UNKNOWN FORCE
Documentary Film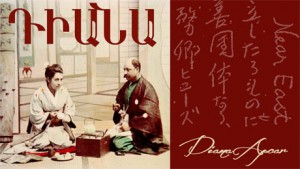 Mimi Malayan – Executive Producer/Researcher
Arthur Muradyan – Director/Post Producer
Ekaterina Rossikhina – Scriptwriter/Researcher

This documentary film features the life and accomplishments of Diana Agabeg Apcar, who broke with convention and pushed her agenda of arguing for a free Armenia. During the subsequent decade, she worked tirelessly to save destitute refugees, who traveled across Siberia to find her in Japan. The lost story of this extraordinary writer, humanitarian, and diplomat will be revealed in our film. We are reviving her story as a model of inspiration, for anyone who takes on an insurmountable burden and believes in helping the abused and forgotten.
__________________________________________
Links within About section:
About the film
Synopsis and Treatment
Animation
__________________________________________
Current status.
This project has been approved by the San Francisco Film Society for fiscal sponsorship. We are very proud of their confidence in our success and aspire to their high standards of performance.
For many months we have researched Diana Apcar's life by reading her books and letters, securing documents and photographs, and identifying and reading memoirs of refugees who traveled through Japan. We have also researched the historical events of the time, to clearly understand the context of these very personal stories. Our interviews with historians and relatives have also contributed to and expanded our depth of knowledge. Some relatives still remember Diana and have shared their insights and perspectives with us.
We have set up this website to share most of our research and to keep you updated on our progress. This site has many levels of information and includes an extensive archive of over 250 documents (over 900 pages in total), which is a portion of our research and is available for your reference.
We are now pursuing fundraising. While we are extremely careful with our expenditures, filmmaking is an expensive endeavor. Please make a donation to the San Francisco Film Society on our behalf, by clicking here.
SF Film Society Links:
Our project's page at SFFS website.
SFFS Letter of support.
501c3 form.

__________________________________________
Links within About section:
About the film
Synopsis and Treatment
Animation
__________________________________________